Dallas Morning News, Oct 1, 2012
Local Music Connection: Frisco-based country singer-songwriter Mark David Manders  By Mario Tarradell / Music Critic
mtarradell@dallasnews.com
6:50 pm on October 1, 2012 | Permalink


Manders went back to basics during the recording of "The Greenhouse Sessions." (Blind Nello Records)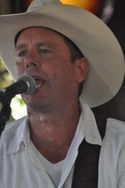 It took Mark David Manders six years to make another album of his original songs. The Greenhouse Sessions, released last month on Blind Nello Records, finds Manders, 49, at the peak of his storytelling prowess. He spins yarns both true and fictionalized — songs such as "The General," "April's Fool," "The Murphy Store" and "Nickel Creek Cafe" — that transport listeners to another time, place and mindset. Somewhere along the way Manders slips in a love song ("My World") and a mournful goodbye ("I Know That Rain"). It is a homespun, completely acoustic disc with support from great musicians such as Milo Deering, Dave Perez and Anson Funderburgh. The genesis of The Greenhouse Sessions is Songwriters Anonymous, a local tunesmith workshop group Manders started 19 months ago. Manders, who lives in Frisco with wife Kathryn and their 14-year-old triplets Justin, James and Jessica, hopped on the phone with me to talk about The Greenhouse Sessions, Songwriters Anonymous, the Texas country music scene and more. 

Click here for the entire article : popcultureblog.dallasnews.com/2012/10/local-music-connection-a-conversation-with-frisco-based-country-singer-songwriter-mark-david-manders.html

\
Saturday, September 8, 2012, 8:42 AM
Charles Walker's cabin, Oxford Mississippi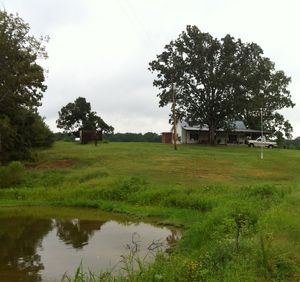 I awoke around 8:00 and cleaned the kitchen and porch. The guys are all asleep inside, except for Barry who prefers, in most cases, the privacy of his own vehicle. I went to bed rather early compared to the rest of the band. After our show at the Library I was soaked to the socks with sweat. I didn't even notice it was raining until I stepped out the side door of the club to leave. My attention had been so focused on our show that my eyes never made it as far as the windows. By the time we arrived at Walker's place I had a pretty good chill. Between the rain and the air conditioner in the Yukon my core temperature had dropped to an uncomfortable level. I think it's from all those years I spent working in the hot sun, but whatever the reason, my blood may not actually be thicker than water.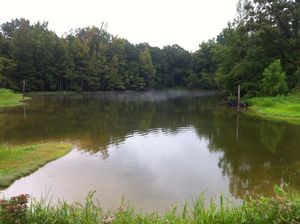 A warm shower and a plate of leftover catfish set me right again. Soon I rejoined the boys for a few beers and a little post-game discussion of our show. We had a good set list last night, but in music as in war, the best laid plans go to hell as soon as the first shot is fired. The key is how you adjust, and last night we did just that, wandering far from our set list into the land of cover tunes. Nothing too serious, of course. (I did have to, however, draw the line when some drunk college kid requested Grath Brooks...repeatedly.)

So, by the time we finished the first set we had developed a stretegy- play three or four originals and then a cover. Waylon, Haggard, just about any song I could remember from my youth seemed to work. If they knew half the words they were happy and the dance floor filled. If at any time during the performance we thought the crowd was slipping away Clayton would fiddle a few bars of "Dixie" and all present gave a rebel yell, followed by a misty-eyed, distant stare beyond the stage as if recalling some fond memory of their youth. It was a beautiful tactic and I'm sure we'll employ it again tonight.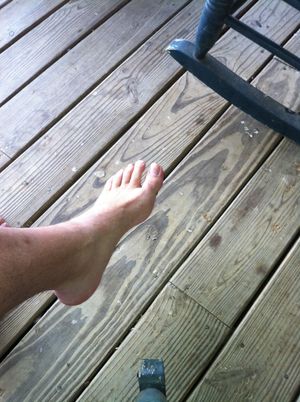 But enough shop talk- there are more serious subjects that require my immediate attention. First, since we have arrived here at Walker's place I have been flooded by myriad creative urges, as thick as the June bugs that covered the porch last night. (I use the adjective "myriad" because I believe it is written somewhere that whenever a writer trods upon the sacred home turf of William Faulkner he must, if he decides to correspond, incorporate Faulkner's favorite word.) In the shower last night a book was born; an idea popped into my mind and I followed it as if I were sitting in a theater watching a movie. Not sure when I'll have time to work on it; still got one on the desk waiting for an ending.

But there is so much more here that defies definition: a magical whisper in the air, a chorus of a million oak trees swaying in the wind, leaves rubbing against leaves, a loon calling in the distance, the occasional passing of a truck on the blacktop road not quite visible from the cabin. I have been sitting in this rocking chair in silence for God knows how long just listening. I was so into the zone a few moments ago that, when an acorn dropped from the large oak next to the cabin and landed on the aluminum roof of the porch, I jumped a good twelve inched out of my rocking chair. That "zone" I am describing is a place few people speak of and even fewer venture near. A beautiful creature dwells within that mystical place. Her name is Creativity, and if you'll listen closely, with a little luck she'll tell you a story.


Sunday, September 2, 2012
!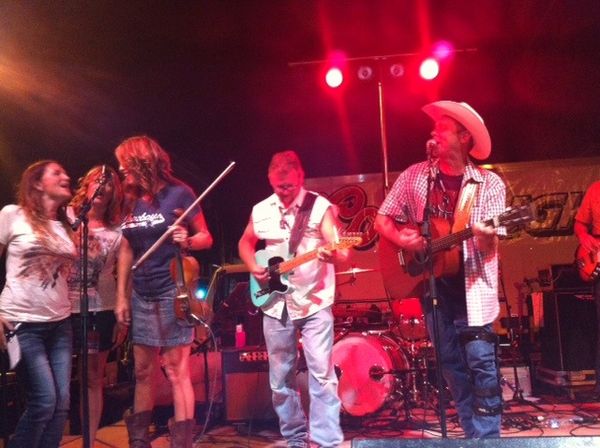 Sunday Night- Rockin' the Ranch with a little help from BTG!!!
I can't tell you how much fun we had in San Angelo Sunday night. It was just like old times when Blacktop Gypsy joined us on stage. Heather's incredible fiddle and all three girls' harmonies blew me away. From L to R: Andie Kay Joyner, Darcy Starcher, Heather Stalling, Mark Lafon, and yours truly! Not only did we have a great time, we raised a huge sum of money for the West Texas Boys Ranch.

More Photos