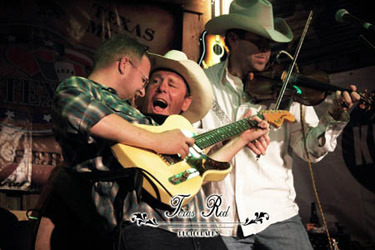 Mark David Manders has been a mainstay in Texas music for over twenty years. His music reflects his life: an intriguing dichotomy of the introspective soul searcher and the beer swilling, drunken poet. His shows are high energy and unapologetic. His songs reek of alcohol with an occasional hint of guilt. Yet there is a tapestry to his lyrics that reflects influences such as Guy Clark and Kris Kristofferson.

Mark David Manders grew up in Plano, Texas, a suburb just north of Dallas. He credits the 1973 Jerry Jeff Walker album, "Viva Terlingua", for changing his life.

"The first time I heard 'Little Bird' I knew what I wanted to do when I grew up. And one day when I grow up I'm gonna do it", jokes Manders.

After high school Manders enrolled at Texas Tech University where he spent most of the eighties (1981–1989) working on an Engineering degree. He came away with much more than a formal education.

"Lubbock taught me lessons that I carry with me to this day. Every mistake I made seemed to find its way into a song. That's kind of how I look at life. Don't dwell on mistakes; turn them into songs."

After graduating from Tech Manders found his way back to the Dallas area where he worked for Centex Homes for three years. He was laid off a few days before New Years, 1992, and vowed never to "do that corporate thing again."

"That spring I began playing open mic's around Dallas. I even used to cold-call clubs trying to get a booking. I'd walk into a bar, pull out my guitar and start playing. Sometimes I'd get thrown out, but most of the time someone would buy me a beer, and occasionally I would be asked to come back and play for money."

In April of 1992 Manders won the coveted B.W. Stevenson songwriter contest at Poor David's Pub in Dallas. One of the prizes was an opening spot for the act of his choice and Manders chose his hero, Guy Clark. Soon he was opening for several Texas music greats such as Joe Ely, Robert Earl Keen, Gary P. Nunn, and the Dixie Chicks.

Later in 1992 Mark David Manders formed the Nuevo Tejas Band with Russ Sherefield on bass and David Bennett on fiddle and mandolin. Two years later former Tech schoolmate, Charlie Kautz, joined the group on drums.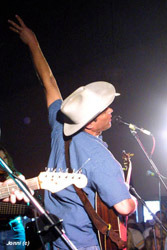 In 1994 the band released their first album, "Headin' Out West." According to Manders, "It was a really terrible album with some really great songs on it." The songs were enough to gain the attention of Grammy award winning producer, Lloyd Maines, who would produce the band's next three CD's.

The Nuevo Tejas band split up in 2001 and Manders continued to write, record, and perform. To date he has seven CD's to his credit with a new project in the works. "The Greenhouse Sessions" is slated for release in late August of this year.
When asked what his favorite memory is after twenty years of playing Texas music Manders replies:

"I got to open up for Waylon Jennings in Austin a few months before he died. Waylon was my hero since I was a kid. But it wasn't the fact that I got to share a stage with him that made it so cool. It was that I got to hang out with him before the show. He was a true gentleman and he actually took the time to ask me about my music. I'll never forget what he said:

'So, Hoss, you enjoy what you're doing? Don't ever take it for granted. It's a gift, son.'

I still enjoy it. And I will never take it for granted."

Manders released his eighth CD, "The Greenhouse Sessions" in October of 2012.  In addition to writing, playing and recording music he is also busy with his first literary project, THE COLLIN STREET BOYS.